Bike rental in Bhutan to Explore Bhutan in a bike with friends
Bike rental in Bhutan offers the best off road bikes to explore Bhutan with the likes of Royal Enfield Classic, Himalayan, Thunderbird and much more. Travellers are often seen to opt for hiring classic bikes over SUVs or Sedans while on tour to exotic places. With the introduction of bike rental in Bhutan by the Road Riders, the process of coping up with increasing demands has been checked too much extent. Now, if you are amongst those who have a tight budget and still are up to explore one of the most beautiful state on the planet, its best to rent a bike in Bhutan from Road Riders.
Just imagine yourself cruising through the curvy hilly roads of Bhutan; doesn't it actually give you Goosebumps? What acts as the icing on the cake is the availability of the latest models of 350cc & 500cc Royal Enfield motorcycles, and that too in the best maintained conditions. Once in the capital state, you just need not to worry as bike on rent in Thimpu is easily available with the Road Riders.In fact, they even provide their service of motorcycle rental in Paro, Bhutan too. You can get yourself any classic Royal Enfield bike rental in Bhutan from Road Riders by just shelling out a few grands as daily rental charges; either with or without a mechanic travelling along-the choice is yours.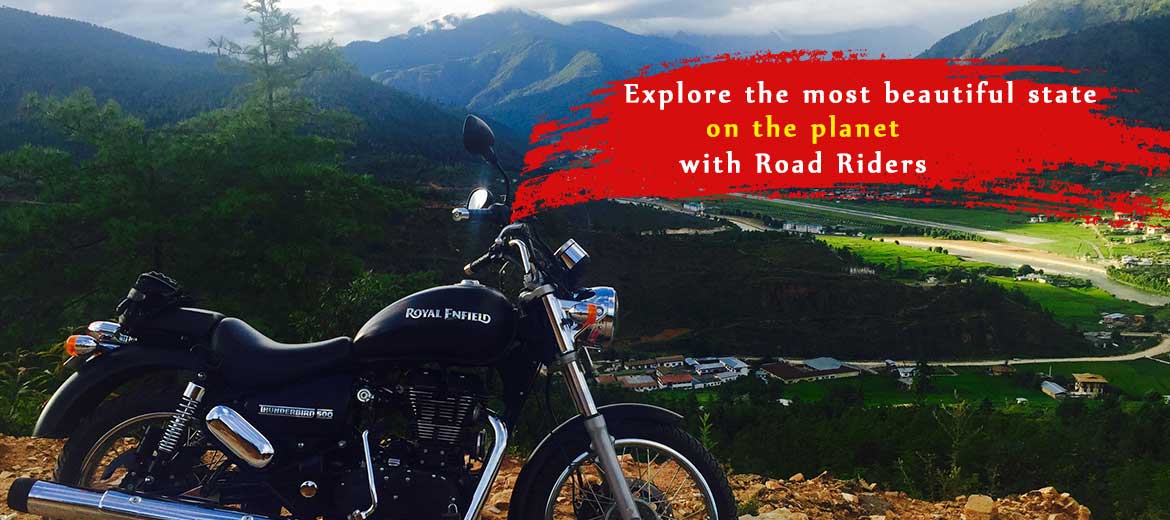 Make the hilly Bhutan Bike Tour Packages something memorable
Association of your travel program with the Road Riders will leave you with choices to make amongst a gamut of Bhutan bike tour packages.You can even get a bike on rent in Thimpu or Paro. In fact, the lowest package can be of as less as a 3 to 5-days' programme. No matter which package you opt, the following things are to happen for sure:
You can have a look on the various packages available online.
Treating your eyes with the lush greenery of this amazing state.
Once out on tour, you can gift yourself unforgettable memories while cruising through the winding mountains of the virgin beautify.
Extension of road trip to Phunaka, Bhoomthang, Haa and Probjika will be a good idea indeed.
All you need to do is to keep the required documents ready with you in originals along with photocopies which need to be presented during taking bike rental in Bhutan.

Hire a motorcycle in Thimpu and get going
Once you are in Thimpu and you need to extend your personal permit, you can hire a bike from Bhutan as well from Road Riders motorcycle rental in Thimpu. The best time for Bhutan bike trip is during autumn season, i.e. from September to December. You can start thumping the curvy mountainous roads of Bhutan and cruise through the gruelling Himalayan terrain and experience:
Picturesque of the snow-clad Himalayas
Magnificent valleys, ridges, crest and even quaint hill towns.
Influence of Buddhist culture with the sounds of clinking of chimes and chants of monks treat ears and soul with peace.

Motorcycle rental in Bhutan is not actually a big deal
Bhutan, the happiest country in the globe, treats everyone with politeness. In fact, visiting the kingdom with Indian citizenship is actually hassle free. From Road Riders motorcycle rental in Bhutan is easily available. All that need to be taken care of prior to bike rental in Bhutan are:
Personal permits issued by the Government; one at Phuentsholing and another at Thimpu (in case of extension of the journey beyond it)
Bhutan bike permits from RTO and Bhutan's Road Safety and Transport Authority department.
Keep your Driving Licence and documents ready along with the permits; and DO NOT FORGET to get them stamped at check posts, else you will be fined anytime by the police.
Points to keep in mind while taking service of bike rental in Bhutan
If you are travelling through the road of Bhutan, just Couple of things that have to be keep in mind. Rent a bike in Bhutan will straight away save you up to 60 percent of what you actually had to pay to hire a four-wheeler during your stay in Bhutan. If the same is talked about in a bit detailed way, all you have to do to get yourself a well-maintained cruiser bike in Bhutan is to pay a mere Rs. 1500/ day against a refundable security deposit of just Rs 10000 and original photo identity proofs. However, if the fuel is concerned, that solely is up on the customer.
In fact, if you are in dilemma about your bike-riding skills, or don't have a driving license, the service providers of bike rental in Bhutan In fact, if you are in dilemma about your bike-riding skills, or don't have a driving license, the service providers of bike rental in Bhutan are there to take care of that. You can certainly opt to hire trained bike drivers to take you through the journey of adventurous road trip across the hilly roads of Bhutan. are there to take care of that. You can certainly opt to hire trained bike drivers to take you through the journey of adventurous road trip across the hilly roads of Bhutan.
Take Bhutan bike permit for hazard less Bhutan bike trip
Bhutan motorcycle rental would be easy if you can remember few things. The time of Bhutan is 30 minutes ahead from Indian time. So, make sure to reset your watch 30 minutes ahead as you enter phuentsholing so as to keep yourself in Bhutan time. Do not forget to carry your voter card with 2 copies of passport size photos. The immigration office opens at 9.00 am (Bhutan Time) and at the first counter you can request for a form and fill it up with basic information of yours. Do carry a bottle of juice or water and some snacks as it could be tiring and humid in the office. The personal permit is valid for 7 days and it is valid for passage to Paro and Thimpu only.
Now if you are thinking about Bhutan bike permit, you just have to follow some important things.
For vehicle permit these are the following steps
First, you won't be issued a vehicle permit unless you have your personal permit. Second, Fill a permit form (available at any shop in the bus stand. they will even fill it for you for a small token fee). You need to enter your name, your permit no, vehicle no, your Driving License details in form. Others things would be required are Vehicle RC Copy, Emission certificate copy, Insurance certificate copy (Make sure your insurance is valid in Bhutan), Driving license copy, Vehicle tax receipt from RTO (not compulsory), Your individual person permit copy.
What else do you want to put icing on your cake of travel plans to Bhutan? Just don't wait and get you desire bike from Road Riders service provider of bike rental in Bhutan and start your unmatched journey.